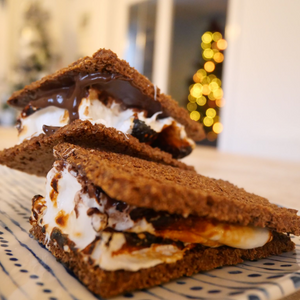 GG S'mores
 'S'mores' are a popular dessert consisting of crackers, melted chocolate and toasted marshmallows. They are popular in America, but the whole world has come to enjoy the delight that is a S'more!
This is how you can make your own GG 'Smore's treat!
Ingredients:
(Makes 1 S'more)
2 GG Crispbread
1large marshmallow
1 tsp Chocolate spread
Instructions:
Preheat your oven to 180 degrees
On foil add a GG Crispbread
Top with chocolate spread. (We used Multipower Protein cream or you can use a low sugar alterantive to chocolate spread)
Then top the GG with marshmallow (We used Max Mello by No Brainer)
Place on a rack 5-6 inches below the top of the oven.
Leave the door open 3-4 inches so you can peek in.
Watch for 20-30 seconds for them to char and expand.
Remove from the oven and cover with additional GG Crispbread and ENJOY!
Nutrition 
Serving: 1 | Calories: 221kcal | Carbohydrates: 38g | Protein: 6g | Fat: 4g / Fibre 8g
Make sure you tag us on our Instagram page @ggscanbrancrispbread
---