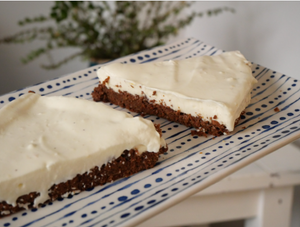 GG High Fibre New York Cheesecake (UNDER 100 CALORIES PER SLICE)
The search for the perfect high fibre low calorie New York Cheesecake is over!
We have some good news for anyone out there with a sweet tooth looking for that healthier treat to keep you satisfied.
You don't have to deny your cravings for sweets to live a healthy lifestyle. Just commit to changing the way you "do" sweet.
So put down the processed sweets, the rich bakery cakes, and the packaged cookies, and start getting your fix of healthier treats from wholesome high fibre foods!
PER SLICE:
97 Kcal
6.5g carbohydrate
2.0g fat
9.3g protein
4.2g fibre
Ingredient:
2 Eggs
7 GGs
20g Cocoa powder
150 Quark (calorie depending...for even more creamier taste use mascarpone)
125g High protein Arla yogurt
½ mixed sachet of gelatine powder (pre prepared)
2 tbs sweetener
1 tsp vanilla extract
To achieve this perfectly low cal cheesecake, just follow these steps...
 The base
STEP 1:
Soak 7 crispbreads in boiling water until full absorbed.
STEP 2:
Drain off any excess water.
STEP 3:
Add to a blender with 2 eggs and cocoa powder. Once mixed four on to the base of a non-stick springform 9" cake tin.
STEP 4:
Cook at 190 degrees for 20 minutes. Once cooked leave to cool.
STEP 5:
Next mix the quark, yogurt, sweetener & the prepared gelatine.
STEP 6:
 Pour on to the cooled base and place in the fridge for a minimum of 4 hours to set. (Times may vary and we suggest you prepare the day before.)
STEP 7:
  ENJOY!
If you found the recipe above useful (or you have any other cheesecake tips), let us know. If you make this cheesecake, be sure to #Scanbranchallenge on our Instagram @ggscanbrancrispbread and share your work with us!
---