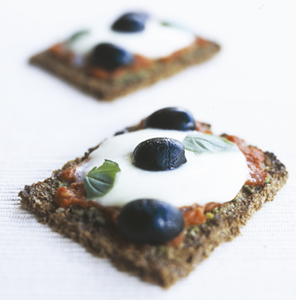 Basil, olive and mozzarella pizzas
Something super easy for the kids. Basil, olive and Mozzarella pizzas!
Makes 6-8
Place a can of chopped tomatoes with garlic in a pan with 1tbsp tomato puree. 
Simmer gently for 15 minutes until you have a thick paste.
Spread each crispbread with a little basil pesto.
Spoon over the tomato sauce and top with sliced black olives and slices of Mozzarella cheese.
Place under a preheated grill and cook until the cheese has melted.
Garnish with some fresh basil leaves.
---